Women's Halloween Party "Mythica"" at Tracks Friday October 28th. Enchanted and Mystical. Costume Contest $500 First Prize!
Join Babes Around Denver for an enchanted and mythical evening  in a  magical fairy land at the largest Halloween party for women in Denver!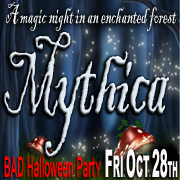 What does mythica mean?. Definitions include allegorical, chimerical, created, fabled, fabricated, fabulous, fairy-tale, false, fanciful, fantasy, fictitious, fictive, folkloric, imaginary, invented, legendary, made-up, mythologic, mythological, nonexistent, pretended, storied, supposititious, traditional, unreal, untrue, visionary, whimsical.
Tracks will be transformed into a fairy land with castle and all. Get creative with your costumes ladies.
Costume Contest: approximately 11PM ($500 First Prize)
Doors Open 7PM
Music – "Witches Brew" by DJ Shannon – 7-9PM – mash up with a little bit of country/retro/r and b. 9PM Close – Billboard and Top 40 Dance/house/hip hop
Cover: $7
Tracks (3500 Walnut-Denver 80206)
VIP Bottle Service available. Contact dedefrain@babesaroundenver.com