Our Disc Jockeys
Meet our First Friday Resident and Guest DJ's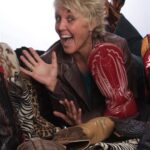 When asked what Shannon's favorite music is….? she says "A little bit of everything!!". "From Country to Dance to Retro…I love it all! Music is a powerful thing and can take you back instantly to a place and time".
You may remember her from Divine Madness but Shannon started DJ-ing long before and has a record (yes a RECORD) collection you just can't beat. She has had a long career in radio but still loves connecting to people in the clubs.
DJ Shannon dishes up a great dose of country music from today's country starts like Kenny Chesney, Keith Urban and Sugarland to some of your country favorites from George Strait, Dolly Parton and Johnny Cash. Scootin starts at 6pm and runs to about 10 every First Friday!!
DJ Markie grew up in a radio family and after moving to Denver, dreamed of DJ-ing at Tracks. In 2005, the dream came true and Tracks has been her home ever since. She plays an electic and juicy mix of 80's, 90's and 2000 prop retro dance music.
DJ Markie is a resident DJ at Tracks and she joined the First Friday line up earlier this year. Markie says "the moment you set foot in the door, you're family too.
Send requests to
For those not yet acquainted, allow me to introduce DJ Tatiana; official Billboard music DJ and chart panelist. She was born in Madrid, Spain and has been making people dance around the globe since 1999. Fueled by her passion for music, this talented Denver based DJ has been rocking dance floors across the US and abroad with her beautiful smile and her energetic vibe. Regularly featured in magazines and newspapers, throughout her music career, Tatiana has also earned several awards and community recognitions. A delightful peoples' person and a very talented musician, DJ Tatiana has headlined at leading club venues around the world such as The Church, Pacha, Nikki Beach and The Week to name a few. She has also performed worldwide at recognized parties and events like AquaGirl (Miami), Shedonism (Las Vegas), BAD First Fridays (Denver), EuroPride, Sweet Caribbean cruise and many more. Her music does not know any borders, her connection to people, wicked skills, track selection and an unmatchable energy have placed DJ Tatiana into a class of her own. From her performances in New York City to the sandy beaches of Ibiza, she is a one of a kind performer. Tatiana incorporates many styles into her sound, from Latin beats to popular top 40s to tribal house, with musical favorites from all genres coming together in her sets.
---