VIP Service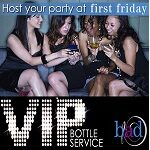 Having a birthday or other special occasion? Let us help you show your friends a good time and party with your peeps in style! We offer VIP service for groups of 4 to 40. Space is limited so make your reservations early.
VIP WITH BOTTLE SERVICE FOR 6 GUESTS INCLUDES:
Reserved couch seating for your group
One bottle of liquor (average 18-20 drinks). Choices include Absolut (any flavor) Malibu Rum or Jim Beam. Premium brands available for additional cost
Set up and unlimited mixers (cranberry, soda, tonic)
6 Cans Red Bull (additional Red Bulls must be purchased)
Set up and bus service
Complementary large screen graphic on the big screen for your group to highlight special occasions.(graphic must be provided 1 week prior to First Friday)
Cost – $200 (includes bottle cost of $150 plus 20% gratuity and admission for 6 people)
Advance payment and 4 days notice required.
Additional bottles are available for $150 plus 20% gratuity
Contact dedefrain@babesaroundenver.com  to make your reservation now.
Directions to Tracks
Visit the Tracks/EXDO Website for directions and more information about the club
View Larger Map